Over fifty years as an Airport has allowed us to build a diverse art collection that reflects our community and as such, is an extension of ourselves.  The collection reflects the abundant natural resources and rich cultural heritage of the region and celebrates the legacy of Tampa Bay as the birthplace of commercial aviation.
Main Terminal
Tapestries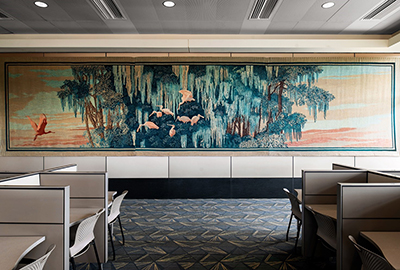 Location: Main Terminal, Baggage Claim & Airside E
Description: Twenty-two triptych wool tapestries, eleven designs
Artist: Ron Renmark , Virginia & Michael Reck
Installed:  1988
The custom designed and fabricated wool tapestries depict familiar Florida nature scenes.  Eight tapestries are on display with the remainder in storage.
The tapestries were woven by twenty women between 20-40 years of age from Phumlalanga, Swaziland in Africa, under the direction of Ron Renmark & Michael Reck.  Renmark owned the studio in Virginia where the tapestries were created and Reck owned the studio in Swaziland that was selected over five others from around the world that bid on this project. 
The weavers were flown 8,000 miles from their homeland to Renmark's studio in Patrick County, Virginia.  Working on a scaffold suspended in front of an 11 x 36 foot loom, built by Michael Reck, the weavers used the full-sized paintings Renmark created to translate 11 pairs of designs into 22 sea-green and ocean-blue scenes of egrets in a tidal marsh, sponge boats, manatees, Spanish moss and live oaks. 
All work was done by hand.  Reck mixed the dyes that transformed the 22,000 yards of woven cotton into hundreds of variations of the airport's basic colors -- scarlet, teal and brown.  The Merino (very soft) and Karkul (long and coarse) sheep wool, imported from Botswana, was "carded" twice with a wire brush which was then spun into three-ply yarn on wooden spinning wheels. 
Eight of the 12 ladies returned to Swaziland with a sense of American entrepreneurship and opened their own weaving studio, Vulcanti Maswati, which means "awakened".
Light Passage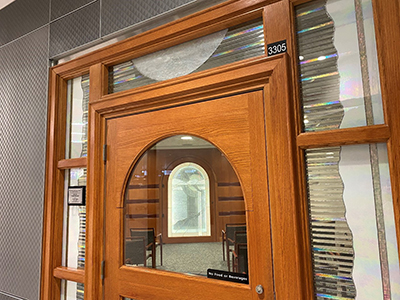 Location: Airport Chapel, Landside Terminal, Level 3
Description: Glass art adorning the entryway door and interior wall of the Airport Chapel
Artist: Yvonne Barlog
Installed: 1998
Light Passage was the first piece of work commissioned under the Public Art Program. The Airport Chapel is a non-denominational quiet room that is open 24 hours a day.
Burgert Brothers Photographic Collection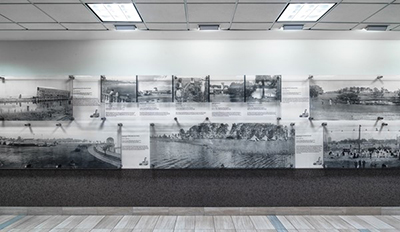 Location: Main Terminal, Ticketing Level
Description: A collection of 28 Cirkut images and approximately 20, 8" x 10" photographs which record the unique history of the social and urban growth of Tampa and Florida's West Coast.
Artist: Brothers Al and Jean Burgert
Installed: 2004
In 1899, S.P. Burgert and Son opened their studio in Ybor City. By 1918, sons Al and Jean were at the helm and the Burgert Brothers Commercial Photography Studio was providing services for the West Coast of Florida. Their studio remained open for business in various Tampa locations, with different heirs and employees in charge, until 1963. The brothers took more than 80,000 photographs. Their photographs appeared in national publications including Life and National Geographic magazines, as well as in local newspaper advertisements, promotional brochures and displays for offices and stores.

After the Burgert Brothers studio closed, their photographs and negatives were stored in a south Tampa garage. Heat, humidity and moisture destroyed many of the negatives. In 1974, the Friends of the Library Hillsborough, Inc., recognizing the priceless, historic significance of the collection, purchased it for the Library so that the photographs would be available for the public. Tampa International Airport and the Tampa-Hillsborough County Public Libraries entered into a loan agreement to reproduce a collection of the Burgert Brothers' Cirkut and standard-size images. The nearly 50 selected images were produced to film and mounted on quarter-inch thick clear plexi-glass.

Most of the photographs in this exhibit were produced with a Cirkut camera. Introduced by Kodak in the early 1900's, the Cirkut process enabled production of panoramic photographs up to four feet wide by one foot high. Photos in the Airport's collection range from a team photo of the New York Yankees (1927) in St. Petersburg featuring Babe Ruth and Lou Gehrig; the Gasparilla Invasion (1922); the Josiah Richardson Home (1923) in Sulphur Springs; to the Tin Can Tourist Camp (date unknown) in Central Florida.
El Movimiento del Mar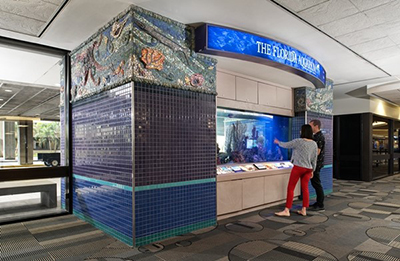 Location: Main Terminal, Blue Baggage Claim
Description: Tile artwork adorning the top of the Marine Exhibit
Artist: Elle Terry Leonard , Sarasota, FL and Josh Johnson
Installed: 1999
Tropical Fish Tile Collage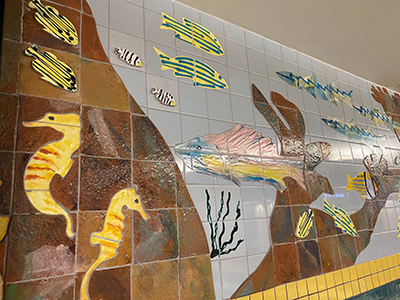 Location: Main Terminal, Red Baggage Claim
Description: Tile artwork adorning the top of the Marine Exhibit
Artist: E. Joseph McCarty
Installed:  1999
Greetings from Tampa Bay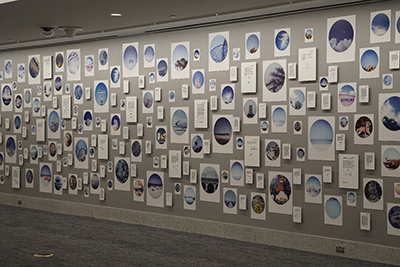 Location: Main Terminal – Atrium of Long Term Parking Walkway and Blue Express Curbside
Description: 171 Polaroid images and 123 typed stories printed on aluminum
Artist: Sheryl Oring
Installed: 2021
Residents of Tampa Bay were invited to share stories about their city during a series of performances in which secretaries dressed up in early 1960's attire, typed up stories on manual typewriters. Performance locations were carefully chosen so that a broad spectrum of the local community could participate. These stories and photos they inspired together paint a portrait of the region.  Greetings From Tampa Bay includes 171 Polaroid images from the region along with 123 stories gathered directly from those who call this area home.  The 48-foot display creates an unfiltered and intimate depiction of the Tampa Bay region. The stories are fun, surprising and heartwarming, and above all, honest.
Airside A
Copper Birds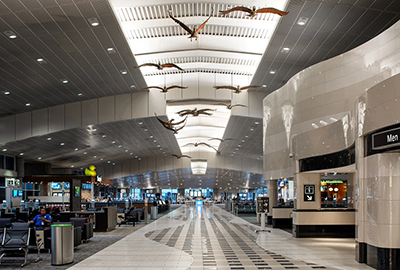 Location: Airside A
Description: A collection of seabird sculptures made of copper, nickel, silver and bronze alloys
Artist: Roy Butler, Plantation, Florida
Installed:  Originally installed in the main terminal in 1971.  Relocated to Airside A in 2018
Flying down the Airside, view the pelicans in flight. Each bird weighs approximately 30 pounds and has a wingspan of almost seven feet. The entire bird collection includes some 63 individual fowl of five different species including Gulls, Herons, Cormorants, Anhingas and Pelicans.
Birds Leaving Earth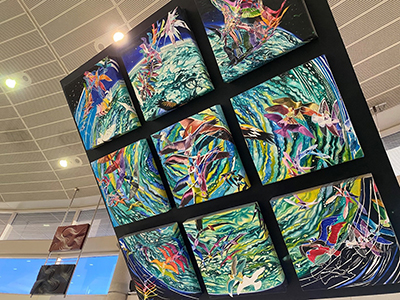 Location: Airside A
Description: 20' square painting  
Artist: Elizabeth Indianos, Tarpon Springs, FL
Installed:  1998, relocated in 2018
The painting, mounted on an 800-pound aluminum frame, is composed of nine six foot square canvas panels in three rows. "Birds Leaving Earth" features a giant Earth sphere with over 300 Austrian crystals affixed to the surface.  Flocks of vibrantly colored birds are painted against a backdrop of the earth, sky, and oceans.  Seemingly propelled from the earth, the birds appear to be leaving, flying in all directions. 
Tampa International Airport purchased the piece October 2007 after having it on loan for a time. 
Kites in Flight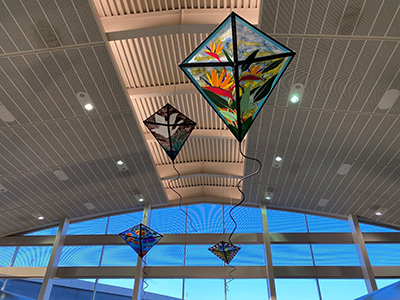 Description: Four 6 feet high by 4 feet wide kites with tails made of fused glass and steel that are each 12 feet long
Location: Airside A
Artist: Lisa and Joe Vogt, Wesley Chapel, FL
Artwork on loan
From the Artist:
"My view of the world is different.

I see pattern and form in everything. I am compelled to interpret what I see, make it my own, and then share it. For me the creative process is not a choice but a necessity. It is a journey that I embrace; for it has many rewards including self-discovery, growth and an opportunity to raise my voice and speak through my art. It is my hope that the kites lighten your load, bring a fond memory to your mind and sweep a smile across your face. Enjoy!"
 Airside C
Specula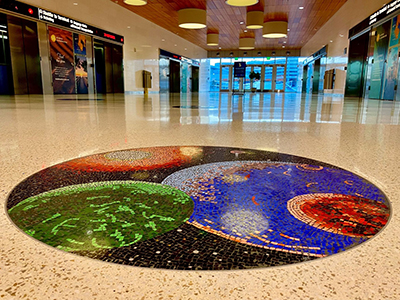 Location: Airside C
Description: A series of 22 mosaic round medallions made of glass and stone
Artists: Kristen Jones & Andrew Ginzel, New York, NY
Installed:  2005
The Jones/Ginzel team designed a series of 22 mosaic round medallions made of glass and stone that are reflective of the lighting plan in the ceiling above and are laid into the white marble floor.  The medallions range in size from 48 inches to 12 inches in diameter.  Some depict openings to the sky where passengers have just been and others feature openings to water, rivers, the bay, and the Gulf which beckon visitors onward.  The medallions become portals for the eye and mind.
Final Boarding Call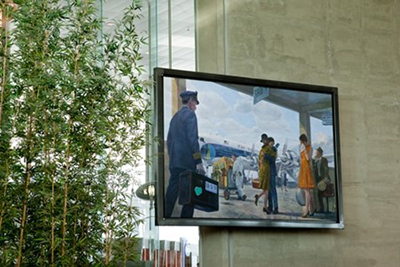 Location: Airside C
Description: A 17' x 11' aviation themed oil painting on Belgium linen
Artist: Christopher Still, Tarpon Springs, FL
Installed:  2005
"Final Boarding Call" captures the Golden Era of airline travel. Travelers in the painting reflect of the many emotions of departing and arriving, all upon the stage of boarding a DC-7. The boarding scene is set against an expansive sky with luggage in the foreground.
q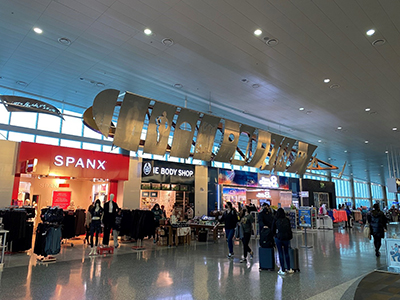 Location: Airside C
Description: A 90 feet long sculpture made of curved aluminum panels mounted to a lightweight supporting frame designed to resemble the structure of an airplane wing
Artist: Christopher Still, Tarpon Springs, FL
Installed:  2005
"q" is the expression for dynamic pressure associated with the force needed to lift an object/airplane. Cutout figures in the aluminum panels not only form a timeline of advances in airline travel but also depict travelers from different time periods and form a timeline of advances in airline travel.  Silhouettes use light from the windows, making the sculpture appealing from the exterior of the building as well as the interior.
Orange Blossom!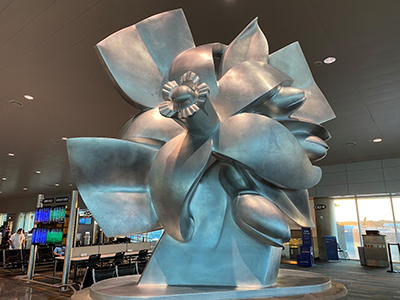 Location: Airside C
Description: A 13' x 9' x 5' aluminum sculpture
Artist: Stephen Robin, Philadelphia, PA
Installed:  2005
"Orange Blossom!" is positioned on a cement pedestal.  The fragrant orange blossom, which blooms in spring, was adopted as the state flower by the 1909 Florida legislature.
The Barnstormer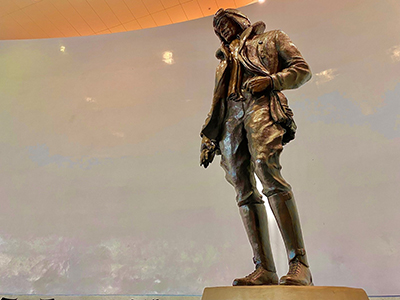 Location: Airside C
Description: An 8 feet tall statue made of silicon bronze alloy
Artist: Harrison Covington
Harrison Covington said the celebration of human flight and the aspirations leading us into the skies are certainly worthy topics for artistic expression.  Aviators belong to a fraternity that is to be respected and honored.  Covington's anonymous barnstormer evokes the heroic spirit of those aviators who symbolize the golden age of flight.
Airside E
The Art of Flight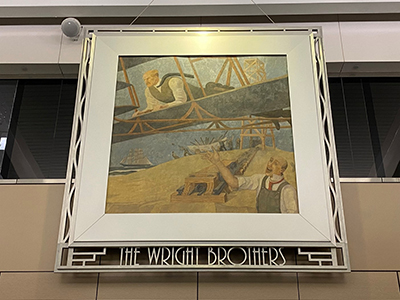 Description: A collection of Seven WPA murals, painted in the 1930s
Artist: George Snow Hill
Installed: 2002
In the late 1930s, St. Petersburg artist George Snow Hill was commissioned to create these murals to adorn the walls of Tampa's newly built Peter O. Knight Airport. Hill artistically interpreted the history of flight through the contributions made by Icarus and Daedalus, Archimedes, The Montgolfier Brothers, Otto Lilienthal, Tony Jannus, The Wright Brothers, and a triptych, capturing the first scheduled airline flight in history.
The murals were removed from the walls of the Peter O. Knight Airport upon demolition in 1965 and restored by George Snow Hill, himself. In 1971, they were relocated to the new Tampa International Airport terminal building, where only the triptych and the Wright Brothers mural hung in the airport's executive suite. The others were rolled and placed in storage, untouched for years.
Needless to say, the circumstances of their storage had an adverse effect on their condition, and upon rediscovery they were in desperate need of restoration. The airport began discussion of a mural restoration project in 1998. The new Airside E Terminal was designed specifically with these murals in mind as a place for this artwork to be showcased.
All murals are oil paint on canvas and measure 9 feet square, except one triptych which measures 9 feet high by 27 feet wide. 
Aviators/milestones depicted in the murals: Archimedes, Tony Jannus, Otto Lilienthal, History's First Scheduled Airline Flight Arrives in Tampa, The Wright Brothers, Icarus & Daedalus and Montgolfier Brothers
Airside F
Good Bye My Love Tampa Seven Days a Week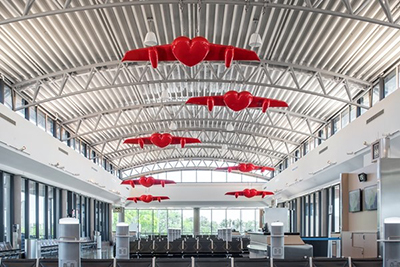 Location: Airside F, Gate 90
Description: Hanging Sculpture -  Seven wings ranging in size from 12 to 14 feet
Artist: Esterio Segura
Installed: 2017
Good Bye My Love Tampa Seven Days a Week expresses the myriad reasons people choose to take a plane and the different ways we think about flying when at home or at an airport.  Each of the 7 wings of the sculpture represent a day of the week.   Born in Cuba, Segura has exhibited in Cuba, US, Germany, Spain, England, Argentina, Brazil and Italy.
From the Artist:
"Good Bye My Love Tampa Seven Days a Week embraces the majestic and mythic relationship between humanity and aviation.  It is an expression of the way the soul and imagination are elevated by flight; and the ways in which airports themselves give access not simply to machines that fly but to the world's staggeringly diverse heritage of cultures, histories, and individual human lives."
Tendril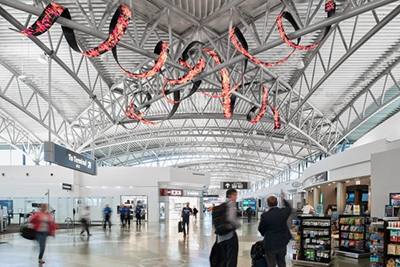 Location: Airside F, near TSA security
Description: LED hanging sculpture. 35' x 41' x 12'
Artist: Daniel Canogar
Installed: 2017
Tendril is a hanging sculpture made of ribbon-shaped metal strips and LED screens that coil around the central space trusses of Airside F. The flexible LED screens display time-lapse video animations showing the growth of Tampa Bay's native flora, evoking the image of native vines curling around a trellis. The installation is a continuation of the artist's fascination with "representations of ruins that depict nature reabsorbing what was built by humans." Daniel Canogar, based in Madrid, Spain, is a visual artist specializing in photography, video and creating new media installations. He's always wanted to make artwork for an airport. "Got my wish," he said.
From the Artist: 
"Tendril is a sculptural LED screen that coils around the existing truss system of the Airside F terminal. The shape of the artwork is reminiscent of vines and features animations of native South Florida plants.  The videos will suggest vigorous reclamation of territory, shifting from fast invasive gestures to tranquil sequences of species settling in their new home.  The native plants are invited into the interior of the Airport, thus connecting indoor with outdoor space.  New animations of plant motifs can be added through the years, allowing the Artist to treat the Artwork like a garden, tending to it by planting new content.  The content on the screen will not be a looping video.  Instead, a computer program will generate real time content using an algorithm. The algorithm will be programmed to randomly decide on the life-cycle of the depicted plants: speed of growth, how branches fork, density of foliage, color and shape of leaves, etc. The generative artwork thus imitates the complexity and randomness of nature itself."
Verdant Tampa Bay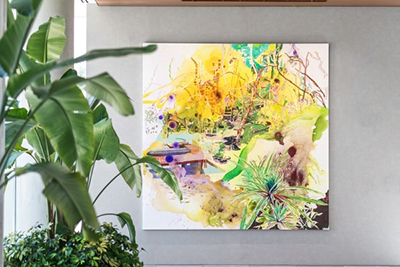 Location: Airside F – International arrivals hall
Description: Mixed-media painting, 8' x 8'
Artist: Elisabeth Condon
Installed: 2017
This mixed media landscape painting combines the literal and the abstract using pours, abstract gestures, representational drawings, traces and collage elements to depict the Tampa Bay region. The painting balances external views of the landscape with an internalized version that is inviting and restorative. Elisabeth Condon is based in Tampa with an office in Brooklyn. A former tenured instructor at the University of South Florida, she left her position to take on creating art full time.
From the Artist:
"Inspired by scroll painting, Verdant Tampa Bay's unfolding composition reveals trees in Lettuce Lake Park, Selby Gardens foliage and the Hillsborough River flanked by bridges, docks and makeshift scholars houses. The painting unites scroll painting's time lapse sequences in pours of paint, a hallmark of 20th century western postwar abstraction, to convey movement and the multiple associations that arise with travel."
Sky Connect Stations
n + 1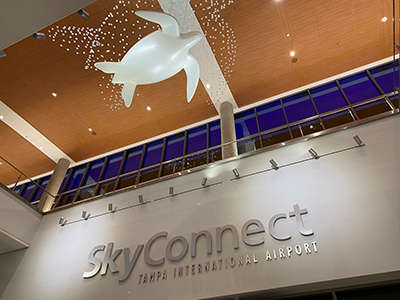 Location: SkyConnect station at the Main Terminal
Description: Hanging sculpture.
Artist: Ralph Helmick
Installed: 2017
n + 1 is a dramatic two-part sculpture. It is suspended above an opening to the third floor and consists of a ten-foot-wide primary sculpture of a large opalescent ivory-white leatherback sea turtle. Suspended above that primary sculpture, hundreds of fine cables hold a thousand small sculptures of turtle hatchlings that collectively coalesce into a particulate 25 feet wide adult turtle, identical in shape and morphology to the sea turtle below. Viewed from below, where many passengers will see it, the sculpture will almost look as if it is gliding through the air. Helmick is a world-recognized sculpture artist inspired by the connection between wildlife and humans.
Crosscurrents
Location: SkyConnect station at the Rental Car Center
Description: Hanging kinetic sculpture, 100 feet long
Artist: Tim Prentice & David Colbert
Installed: 2017
This hanging kinetic sculpture is all about movement. The artists, well known for their kinetic art, are creating a flurry of kinetic elements that float above the viewer and respond to even the slightest currents of air. Each cluster measures six feet by eight feet and consists of small rectangular brushed aluminum plates. In total, ten clusters of freely moving reflective elements extend along the station for roughly 100 feet. The changes in air volume are reflected in a fascinating and complex series of movements overhead.
From the Artist:
"Crosscurrents is a flurry of kinetic elements floating above the viewers and responding to the slightest currents of air.  Our work in kinetic sculpture concentrates on the movement rather than the object.  We take it as an article of faith that the air around us moves in ways that are organic, whimsical, and unpredictable.  We therefore assume that if we were to abdicate the design to the wind, the work would take on these same qualities."
The engineer wants to minimize friction to make the air visible.
The architect studies matters of scale and proportion.
The sailor wants to know the strength and direction of the wind.
The artist wants to understand its changing shape.
Meanwhile the child wants to play.
Rental Car Center
Palimpsest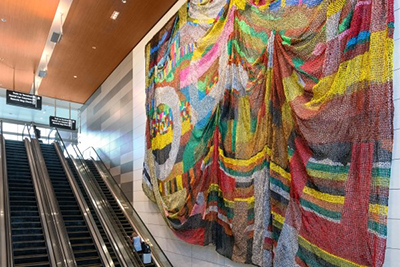 Location: Economy Parking Garage, elevator lobby wall
Description: Hanging sculpture with beads, 45 feet wide, 70 feet long, 1 inch deep
Artist: Nick Cave in collaboration with Bob Faust
Installed: 2017
Chicago-based artist Nick Cave has designed a contemporary dimensional tapestry made primarily of beads. The title of this piece refers to something that has been reused but still bears visible traces of its earlier form – picture a graffiti-covered wall where each new image builds on top of earlier work but doesn't totally replace it. The hanging sculpture is a contemporary palimpsest focusing on the themes of travel to understanding, creating a web of humanity and also the creation of future memories through the travel process. The pattern reflected in the tapestry is "home free." Cave is a world-renowned artist. Previous works include the Lights on Tampa installation and work for the United States Embassy in Dakar.
From the Artist:
"This contemporary palimpsest is a monumentally scaled, hand-made, holder of memories, past, present and future.  It is a conceptual web of travels, coded by color and steeped in human connection.  It hangs as an energy field that both welcomes one home and wishes one well on their next journey.  Each bead, series of colors or bustled field holds the stories of the many makers that worked daily for over 10 months to create Palimpsest.  Now complete in its new home, it is ready to receive your stories too." 
Palimpsest
-Something reused or altered but retaining visible traces of its earlier form
-Having diverse layers or aspects apparent beneath the surface
-Often found in ancient manuscripts and writings where pages were reused for contemporary purpose
-The past as a foundation for the future
Symbols, Systems & Proportions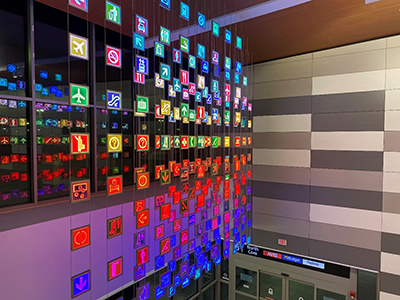 Location: Rental Car Center, north escalator core
Description: Hanging sculpture with LED lights
Artist: Erwin Redl
Installed: 2017
The light installation "Symbols, Systems & Proportions" is a hanging sculpture that consists of three curtains of 81 programmable light panels. Each light panel displays a symbol or a pictogram commonly found at Tampa International Airport, such as an image of a plane, telephone or escalator. The images were adopted from the sign design manual that all airports around the world use to communicate with passengers. There are a total of 27 different symbols displayed on 243 stained glass panels. Each light panel is internally illuminated and the color as well as the brightness is programmed in slow, soothing light sequences allowing for a multiplicity of narratives.  Redl is famous for incorporating hanging sculptures that shift perception based on where people are moving. In this piece, the hanging panels with the LED lighting will maneuver in an animated fashion. Depending on the time of day, the sculpture has a stained-glass effect, filtering and transforming the sunlight streaming in through nearby windows. Even in broad daylight, the power of these LED lights captivate in vivid, bold colors that passengers are able to see and enjoy while transiting down escalators to their rental car. Redl, born in Austria, is now based in New York and Bowling Green, Ohio.
From the Artist:
"The installation utilizes pictograms used at an airport to playfully analyze the complex relationship between symbols and the objects they represent. The visual system employed in this process draws from the very foundations of perception, which is to use our collective visual memory to interpret new optical stimuli and infer meaning.  The artwork uses multiple instances of each pictogram, one per light panel, against different color backgrounds. The light panels are arranged in three curtains. Each curtain has 81 panels aligned in a 9 by 9 grid. The light panels combine translucent color gels and LED lighting. The sunlight streaming in through the window creates a stained glass effect, and a hybrid of this ancient technique with contemporary lighting technology emerges."
Economy Parking Garage 
Blue Skies Over Tampa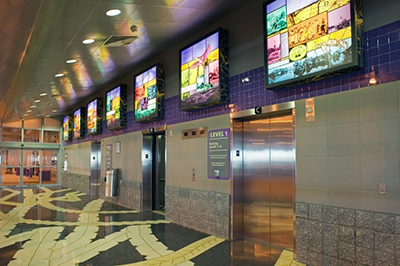 Location: Economy Parking Garage, Purple elevator lobby wall
Description: An illuminated glass collage consisting of seven 4 feet by 4 feet wall-mounted stained glass light boxes featuring photographs from the Tampa Bay area and objects including plants, maps and animals
Artist: Nancy Gutkin O'Neil
Installed: 2005
Blue Skies Over Tampa is an illuminated collage consisting of seven stained glass light boxes featuring photos of the Tampa Bay area.  Using nuanced and shaded mouthbow glass with photo silkscreened and hand painted imagery, the art holds people's interest over time and brings light, color and energy into the space, as only glass can.
The light boxes are a combination of hand painting, photo-silkscreening and sandblasting.  All pigments are fired and are permanent.  O'Neil's work celebrates Tampa, Hillsborough County and the West Coast of Florida, with references to the Tampa Bay ecosystem, the rivers and waterways, and detailed renderings of flora and fauna, reminding people what is unique about the place that they are temporarily leaving, inviting them to return.
The images of people and places, rivers and waterways, archeological material, text, maps, sea charts of local waterways, aerial views and bird's eye views of the city are all tied together through the references to water, sky and natural elements.
Renegade Vehicles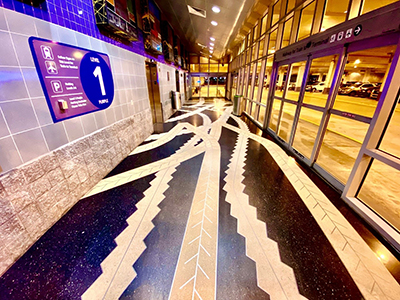 Location: Economy Parking Garage, Purple elevator lobby floor
Description: A design depicting three distinctly different tire treads associated with three different automobiles for a 59 feet long terrazzo floor
Artist: Thomas Sayre, Raleigh NC
Installed: 2005
The design depicts tire tread marks of three different cars as each car differently engages the lobby space.  One car drives in from the garage and recklessly backs into an elevator.  Another emerges from the elevator and drives out the door and the third enters the space and parallel parks.  This concept acknowledges the complexity of the traffic patterns in the space, and in doing so, establishes a whimsical floor design which is capable of providing different perspectives as people encounter the floor over multiple visits to the garage. 
Each tread is of highly contrasted color to the field color which is variegated black stone with the sparkle of cruchse mirrors added to the aggregate to look reminiscent of the glint of shiny particles in a black macadam surface of a parking lot. The resulting design is an eccentric pattern which asserts an unknowable narrative: Why were there cars in the lobby?  What were they doing? Where were they going? And, what became of them?
Passengers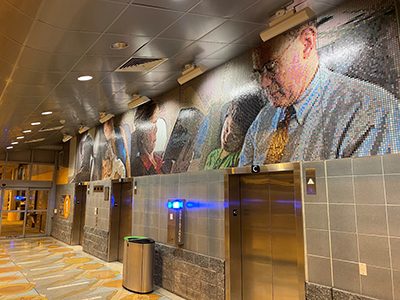 Location: Economy Parking Garage, Yellow elevator lobby wall
Description: A glass tile mosaic mural created with fifty colors of 20mm Italian glass
Artist: Mike Mandel
Installed:  2005
In the mural, passengers are a metaphor for the experience of walking down the center aisle of an aircraft cabin. People are sitting in their seats, reading, sleeping, working and whiling away their time as they fly from here to there.
Florida Sun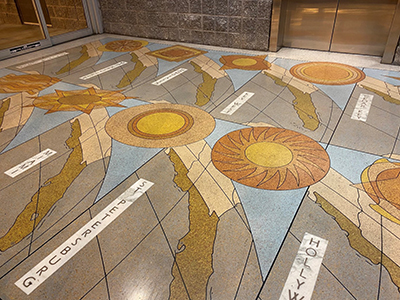 Location: Economy Parking Garage, Yellow elevator lobby floor
Description: A design centered around a geography and climate theme reminiscent of a 19th century Japanese artist for a 59 feet long terrazzo floor
Artist: Robert Calvo
Installed:  2005
The Florida sun is the icon for the art making "a colorful and poetic statement about the Tampa Bay region."  The terrazzo floor contains a number of frames, each containing a unique "sun" design, a map of Florida and the name of a city or town.
Florida Constellations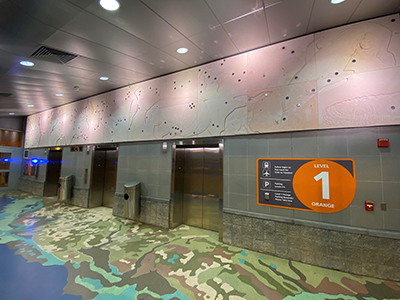 Location: Economy Parking Garage, Orange elevator lobby wall
Description: A star constellation, replacing mythological creatures with signs specific to Florida
Artist: Wopo Holup
Installed: 2008
The "sky" view, mounted above the elevators and carved from Texastone (a soft, natural limestone with flaws, holes and color changes) are star constellations, but instead of mythological creatures, each is a symbol and sign specific to Florida – the Florida panther, the flamingo and an alligator. Pisces became a porpoise and catfish.  The Florida panther stands in the place of Leo, native Timucua people are the Gemini twins and a manatee replaces the bull Taurus in this new sky chart.
Tampa Coast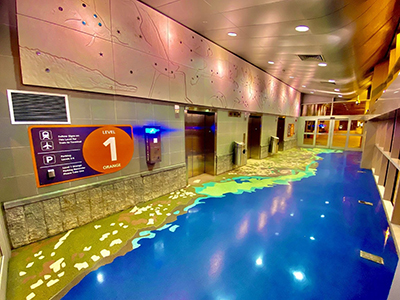 Location: Economy Parking Garage, Orange elevator lobby floor
Description: Terrazzo floor
Artist: Wopo Holup
Installed: 2008
"Sky view of earth and mind's view of sky" is the artist concept for this installation where Tampa Bay and the west coast of Florida are mapped from above.  It is the inflight view of land we see taking off or landing from an airport.  On the floor, a satellite map of the west coast of Florida shows the land as a mixture of pink and green, the ocean is turquoise to indigo.  The terrazzo floor is made up of shades of pink and green in aggregate in the land area and glass aggregates in blues for the water.  Aluminum strips divide the areas.
Sea Shadows – Source, Shadows and Surface
Location: Economy Parking Garage, Green elevator lobby floor & wall
Description: Photographic lightboxes, etched glass on windows and jet cut aluminum inlay in terrazzo floor
Artist: Wendy Babcox, Tampa, FL
Installed: 2009
This project foregrounds the importance of conserving our oceans for future generations and features aspects of the important research conducted at the time by the USF College of Marine Sciences in St. Petersburg.  The design features microscopic and unique imaging systems used by the scientists at USF to gather data on marine organisms essential to the survival of the ocean's ecosystems.  These images are a radical departure from the characteristic imagery one tends to associate with Florida, such as manatees or dolphins.  Instead, Sea Shadows represents a study of the unseen organisms, such as zooplankton, and phytoplankton, that are so vital to continued health of our oceans, so threatened by pollution and climate change.  Materials consist of abstract imagery of the ocean's surface, lit from behind, white plankton Sipper images laminated between two layers of glass ad jet cut aluminum diatom (plankton) images inserted into a midnight blue epoxy base terrazzo floor with mother of pearl and abalone aggregate and grey, green and aqua blue epoxy and recycled glass.  
Tampa Executive Airport 
Over the Cities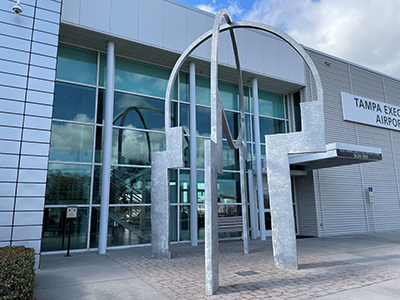 Location: Outside Terminal Building
Description: A three-dimensional sculpture made of polished aircraft aluminum
Artist: Dominique LaBouvie, Paris, France
Installed:  1999
 (Artwork photos by Seamus Payne, Kelly Figley, Angelo Mottola and Beau Zimmer)