Home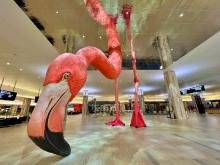 Location:  Main Terminal
Description: Steel, resin and fiberglass flamingo, approximately 22 feet tall
Artist: Matthew Mazzotta
Installed: Spring-Summer 2022
Flights arrive and depart from Tampa International Airport, bringing people - from their home, back home, to a new home, or a place that "feels like home". The idea of "home" in Florida is not only for people, it is also home for the abundance of wildlife that lives here as well. One of the most iconic animals of Florida is the flamingo, and even though its popularity and image graces innumerable pieces of memorabilia that claim to be from Florida, for years this beautiful bird has been thought to be non-native. However, recent research has changed the story of the flamingo's home, and new findings trace its roots to Florida, which has caused a stir and excitement among researchers and residents. "HOME" is a site specific art installation in the Central Terminal of the Tampa International Airport which gives time and space for travelers from all over the world to take a deeper look at the bird whose image is literally all over Florida. However, the story of HOME is not about whether someone, or something, is originally from here or not. The exaggerated scale of the flamingos in HOME puts the lives of these birds in the focus, and puts us, as humans, in awe as they tower above us, reminding us that we all share the same home.
Some may see the Tampa International Airport, the birthplace of commercial airline service, and human-flight in general, as ultimately being inspired by birds (i.e. wing of a plane). HOME is a whimsical counterpoint to this narrative, where birds, the inspirational creatures that were born to fly, are positioned in the airport in such a way, as to be "Popping Back Into The Picture!" This floor-to-ceiling immersive installation gives the impression that the viewer is underwater with water-like light dappling the floor in hints of blue, orange, purple, and white light, changing throughout the day to follow the changing daylight happening outside. Looking up, the viewer sees a reflective and wavy surface that the neck and legs of the flamingo stems from. This ceiling is made of a specialized surface that mimics the surface of water and reflects back the viewer's image as if it is reflected in water. All of the 21-foot sculptural elements (flamingo head, neck, legs, and feet) are designed to be as life-like as possible and will be produced by hand-sculpting each part at full-scale and then casting them in polyester resin and fiberglass composite (same process and materials as Claes Oldenburg's public works) and then painted to be realistic in touch and sight. Rings of floor bumpers around each foot and head mimic the rings of water rippling on floor as they guide those who are seeing impaired around the sculpture.
The scale of HOME is designed to be an exciting experience close up, as well as seen from the many vantage points throughout the entire terminal. The overall effect is one of wonder, contemplation, reflection, and amusement, bringing joy to those passing through the terminal on their way to their destination. Designed as a spectacle to restore the interaction missing from this area of the airport, HOME draws people into this immersive experience, where they will find themselves bathed in changing lights, posing with giant birds, sharing photos, and enjoying being together in this whimsical and otherworldly atmosphere.
Paths Rising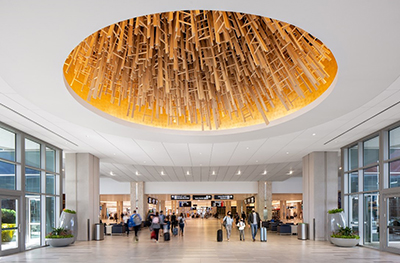 Location: Main Terminal walkway to SkyConnect Station
Description: Basswood and aluminum
Artist: Aaron T Stephan
Installed: 2021
Throughout global history the ladder has been conjured as a metaphor for enlightenment, education, labor, and philosophical modes of thought. All of these traditions use the ladder to represent an individual's path in the world. With Paths Rising, this dynamic symbol is adapted to evoke the many individual paths converging at Tampa International Airport. The work represents a shared moment between travelers - each with an individual journey – gathered together for a fleeting moment as they enter and depart the city.
Paths Rising is composed of over 600 ladders orchestrated to imply a portal to what lies beyond. Tapered from end to end, they give a sense of exaggerated perspective and seem to meet at a distant central point far above. This reinforces the work's powerful upward movement and leads the eye up and beyond the actual space of the light well. A few individual ladders reach down beyond the rim of the oculus suggesting a touchpoint for the passing viewer - a meaningful and humorous invitation to enter the work itself.
Surrounding the ladders, the existing lower wall of the oculus is coated with a gold leaf finish. This creates a glow that is enhanced by the lighting above and marks the oculus as a transition point. In this way, the entire installation speaks to Tampa's vibrant culture, history, sense of community, and lush natural environment.
Florida Sunset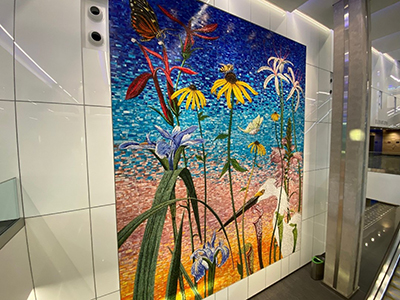 Location:  Blue Express Curbside Building
Description: Mosaic Tile, Stain Glass and Grout
Artist: Jason Middlebrook
Installed: 2021
From the Artist:
"This mosaic mural is a sampling of native flowers, insects and a Snowy Egret at sunset. The composition is a shift in scale; oversized flora and fauna are depicted to draw attention to their importance and significance in the natural world. As airport travelers enter the terminal the oversized landscape acts as a celebration of the surrounding environments. My goal was to create a glass tile painting that inspires people to value the Biodiversity of Florida. Florida has a variety of plant communities from the wetlands, the seashore and The Hardwood Forest to name a few. I selected ten species that are diverse in shape, size and color. These ten species are vital and common within varied plant communities of central and south Florida."
Tropicalismo Revisited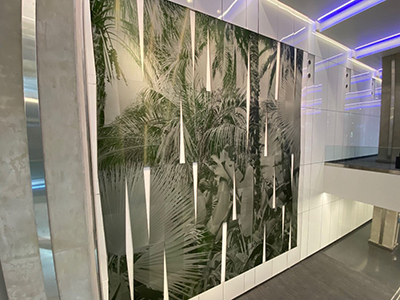 Location:  Blue Express Curbside Building
Description: Photographic Laser Etched Laminated Panels
Artist: Catherine Wagner
Installed: 2021
The subject matter relates to the tropical garden that once existed where the Blue Express Curb is built. The artist viewed an image of the modernist era garden which was demolished for the new curbside, and this became the source of her inspiration. Tropicalismo Revisited, addresses this moment of change by paying homage to the past while creating a new interpretive garden for the future. The Artwork consists of 120 individual etched green aluminum panels, in four different shapes, which compose one large photographic image of Floridian plant life. This montage, present with voids and undulated edges, references the bounds of a garden and sky peeking through dense foliage.
While the original plan for the project consisted of the artist traveling to Florida to photograph a variety of tropical plant species, the Covid-19 Pandemic limited her travels. Thus, the initial research for the project began at several gardens in California, including: Ganna Walska Lotusland Botanical gardens in Santa Barbara, Huntington's Garden in San Marino, and the Conservatory of Flowers in San Francisco. There Wagner researched tropical plants that reside in Florida and photographed a selection of them using a large-format analog film camera. This camera and film allowed for the creation of high-resolution images that were then drummed, scanned and montaged into a large-scale wall relief.
Cove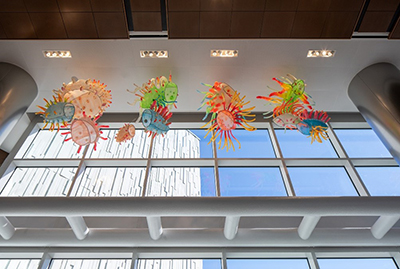 Location:  SkyCenter Atrium
Description: Kinetic Sculpture
Artist: Jason Hackenwerth
Installed: 2021
While the inspiration for Cove was a coral reef, the artist's intention was to make forms that felt familiar but remained ambiguous, and ever changing. They can be anything to anyone but due to the naturalistic curves and volumes, a kinship to them and a sense of oceanic biomimicry will be felt.
From the Artist:
"As people come and go from one destination to another their movements are directed. We move in patterns. Carpets get worn in particular places. Trails form. Our thoughts and emotions work together to guide us through space and time. Only when we encounter a surprise, some unexpected anomaly, do we pause. A cessation in our constant stream of thinking as we stand in amazement at what has got our attention. In this stillness, the slowdown of everything, something different comes through. Joy. A glimpse of our innocence. We remember what we love. In that moment we are connected to our true nature, the kid we have remained inside."
Nebula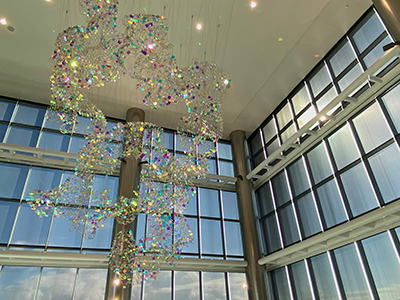 Location:  SkyCenter Atrium
Description: Stainless Steel and Acrylic 
Artist: Soo Sunny Park
Installed: 2021
In Soo Sunny Park's work, light is not just a means by which the form is seen, but part of what constitutes the work of art. Without light, there is no projection, reflection, translucency, or shadow, so the sculpture is not complete.
Park's intent with Nebula is to provoke peaceful, serene, and dynamic setting within the energetic environment at SkyCenter. Her work activates the open volume, responds to the abundance of natural light, and engages passenger circulation in a distinctive and playful way.  The result is a unique experience that is memorable and welcoming.
(Artwork photos by Seamus Payne, Angelo Mottola and Beau Zimmer)
Coming Soon to TPA
Starfish Family | Dancing Algae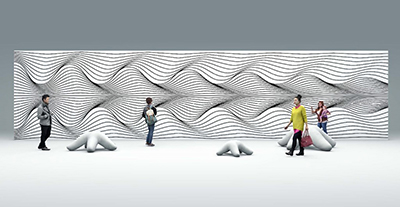 Location:  Entrance to Future Airside D
Description: White Carrera Marble sculpture with graphic wall painting
Artist: Claudia Comte
Installed: Anticipated Winter 2024
Comte's proposal depicts the image of a beach, a resting space in which passengers are invited to approach and even sit on marble starfish that seem to be in repose by the sea. The black and white wall painting represents a repetitive motif that moves along the horizontal axis, like the regular and constant movement of waves or like algae dancing in water. In this context, the background motif captures notions of fluidity and continuous flow while standing in contrast to the quiet inertia of the white marble sculptures. Here, perpetual movement and suspended stillness coexist.
Untitled: (work by Janaina Tschape)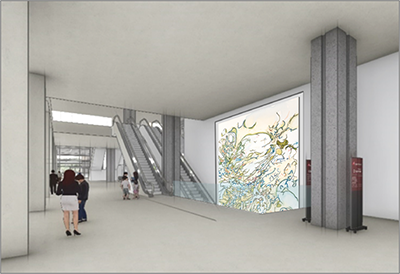 Location:  Red Express Curbside Building
Description: Acrylic paint on milled aluminum panel
Artist: Janaina Tschape
Installed: Anticipated winter 2024
Tschape intends to create a painting that is like the mapping of a landscape.  Inspiration will come from the history of the lush vegetation that exists in Tampa and how it grew over the years.
Keeping the historical context in mind while acknowledging Tampa International Airport as a big hub, where people are in transition between countries and cultures, Tschape will connect the dots and lines of railroad, aviation and other progress that changed Florida's landscape from swamps to a major international city for markets and exchanges. Her painting will have channels carved into aluminum plates. 
Ascending Clouds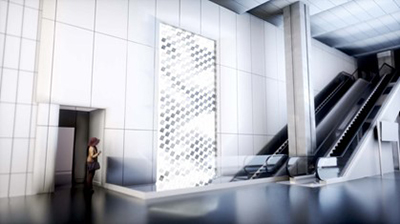 Location:  Red Express Curbside Building
Description: LCD Light box/modules
Artist: Jason Bruges
Installed: Anticipated winter 2024
The media artwork 'Cloud Ascent' utilizes the vertical nature of the circulation space in which it is situated to recreate the experience of ascending through clouds. It expands the artist's exploration of representing natural phenomena artificially through physics systems.
An array of opacity changing material sits in front of a light emitting surface. The composite liquid crystal material has been specifically developed by Jason Bruges Studio to embody the dynamic cloud formations and weather patterns of the skies above. True to looking out of a plane window, the light will change with altitude and the clouds will be displaced by the movement of observers on the escalator.
The orthogonal textured nature of Cloud Ascent allows for key vistas along the escalator to be amplified creating anamorphisms within the artwork.
Liquid crystal has been used effectively within a thread of artworks by Jason Bruges Studio to convey a diverse array of natural systems.