TPA Hosts First Ever Planespotter Tour
(August 1, 2018) With a Cannon t3i in her hand and a grin spanning cheek to cheek, Kelsey Jackson crouches near Taxiway J to capture Spirit Airline's bright yellow livery as it roars into the clouds. The Ruskin resident credits her favorite airline, Spirit, for the success of her long-term relationship, which turned into a marriage.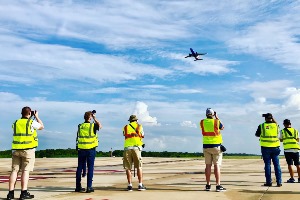 "I owe Spirit a lot," she said.
Kelsey, 28, was one of the 18 planespotters who gathered on July 21 for an exclusive airfield tour – Tampa International Airport's first ever planespotter tour.
The tour consisted of plenty of photography opportunities at both ends of TPA's runways, allowing for planespotters to capture both departures and arrivals of some of their favorite aircraft. The spotters were even escorted into the movement area to shoot some close-ups while experiencing the smell of burnt rubber from the arriving planes.
The planespotters were chosen based off photos they submitted to the Airport via social media. In order to be considered for the event, spotters had to submit three of their best photos from TPA. Once chosen, they were asked to answer questions including their age, where they are from and something special about themselves.
Following the tour, the spotters gathered in the Airport Gallery where they were pleasantly surprised to see their photos framed and hung in our newest display, the Planespotter Exhibit.
"Ending that spectacular tour, and seeing this gallery with all of our images framed, and displayed like that. OK, I'll admit it. I got a lump in my throat," said Michael Oster, one of TPA's most active planespotters.
The exhibit will be up in the gallery area near the Airport Marriott until January 2019.
As for the next planespotter tour, TPA's communications team plans to continue sharing future opportunities on our Facebook group, The Plane Spot – a platform that has grown to almost 600 members in roughly one month.