Click on the dashboard to view a detailed summary report.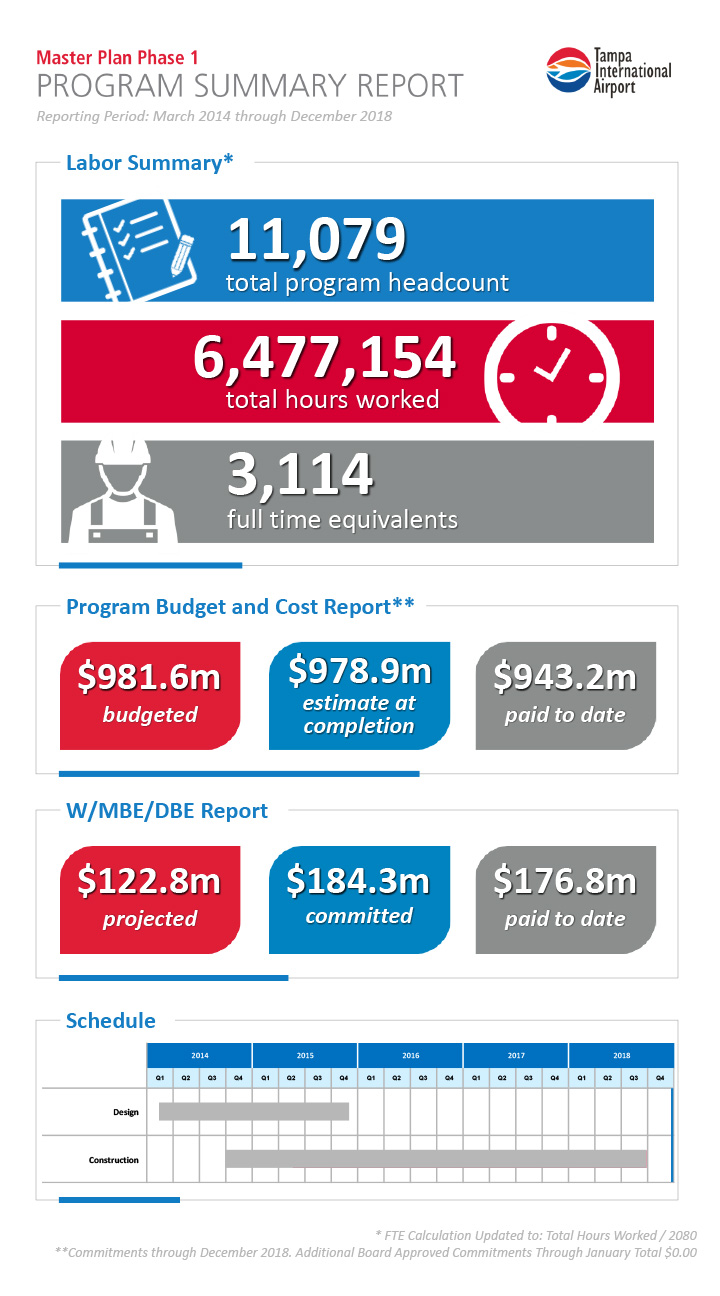 Fun Facts!
Main Terminal:
        4.5 FOOTBALL FIELDS: The 270,000 square feet undergoing renovations on the third floor of the Main Terminal is roughly the equivalent of four-and-a-half football fields.
        BRAND NEW SPACE: We're adding more than 55,000 square feet to the Main Terminal, including more than 23,000 square feet for new outdoor terraces.
        UP AND DOWN: The project includes the renovation of 24 of Tampa Airport's elevators and the replacement of 1,112 linear feet of escalators.
        NEW FLOORING: We're placing roughly 114,000 square feet of new tile flooring.
Rental Car Facility:
        2.6 MILLION: Tampa Airport's rental car center clocks in at 2.6 million square feet - large enough to hold more than 5,300 vehicles at a time.
        REFUELING/WASHING: The center features eight 25,000 gallon fuel tanks and 30 car washing stations
        RAPID RENTALS: At its peak, it can handle 1,541 rentals and 1,650 returns per hour at its peak
        LOTS OF CONCRETE: It will take roughly 200,000 cubic yards of concrete – 25,000 truckloads – to build the Automated People Mover and rental car center.
        …AND STEEL: The facilities will also require 14,000 tons of steel, including 9,000 tons of rebar and 5,000 tons of structural steel.
Automated People Mover:
        NEW TRACK: The Automated People Mover features 7,300 feet of track on its way from the Main Terminal to the rental car center. A typical trip is expected to take about 4.3 minutes.
        PASSENGERS: The initial people-mover is designed to carry 2,700 passengers per hour. Eventually, it could handle up to 6,500 per hour.