Internship program thrives with seven new students this summer
In its third year, the internship program provides the teens with hands-on experience and the opportunity to learn from employees working in various departments at Tampa International Airport.
(July 19, 2018) For Sunlake junior Ilan Robinson, spending time at Tampa International Airport has been eye-opening.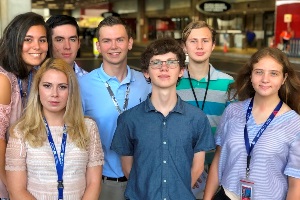 "It's been interesting learning where things integrate into the airport workplace, and how there are hybrid fields that only exist in this setting, like ARFF paramedics," Robinson said. "There are so many different careers here."
Coming from high schools in Hillsborough and Pasco counties, 7 students are spending six weeks of their summer at Tampa International Airport to learn about airport careers and the wide world of aviation. The Airport Management and Internship Program, a partnership among TPA, local high schools and the Tampa Bay Regional Aeronautics Academy, is in its third year thanks to grant funding and focuses on STEM (Science, Technology, Engineering, Mathematics) learning both in a classroom and out in the field.
The program, managed by Operations Administration Manager Aimee Pidgeon and instructed by Pasco County Schools Aviation Academy Manager Bryan Sawyer, gives the students a close-up glimpse of various types of airport jobs including those in Operations, Human Resources, Marketing, Concessions, TSA Operations, Communications and Public Safety and Security.  They also get to spend time in the Air Traffic Control tower and assist in security checks and active shooter exercises.
The internship ends Aug. 2, hopefully leaving the students with a new appreciation for aviation and ideas about future careers.
"My plan is to go into the Air Force Academy," said Sunlake senior Reed Pennington. "But now I know that I have other options if that doesn't pan out. I'd like to work in airport operations."